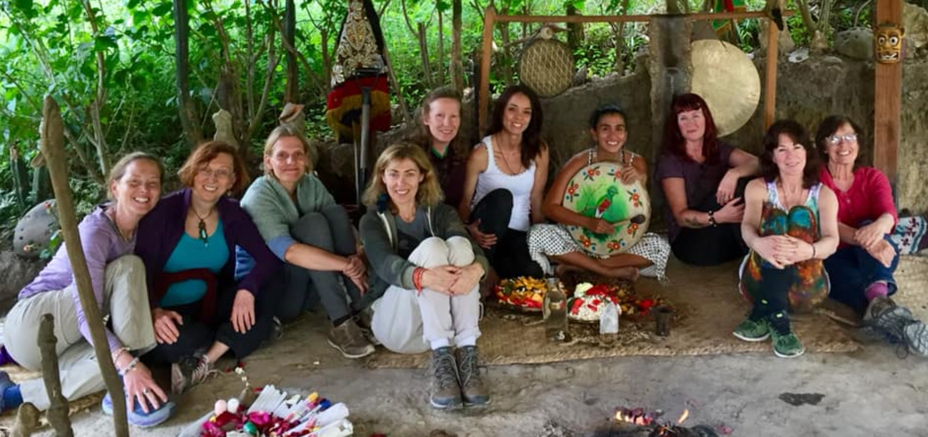 Summoning the tribe
Women´s retreat
January 24th - February 4th, 2020
Returning to our essence
It's with great pleasure and devotion that we extend an invitation to our sisters to come joins us and together let our hearts and wombs beat as one:
With the intention of connecting with each other and expanding that love, which keeps us alive, so it can be expressed as the presence of health in our lives, relationships, and anywhere else where is needed.
Let's walk together towards a journey to the furthest depths within ourselves, to plant there - in our roots - the seeds of new possibilities that are more noble, generous, and sensitive.
We will have fun! Rejoicing in the miraculous wonder that is being together, the opportunity to support each other to sustain and to be sustained, to nurture ourselves from the perfection of our essence ushering the manifestation of the new era that we dream and need, to continue living on our beloved mother earth.
It will be a tribute to the life and a prayer of faith and hope because we firmly believe that this opportunity called life, deserves that we surrender ourselves with complete devotion to the possibility of becoming the best version of ourselves.
The resources of our feminine nature are profound and full of wonders, and our heart generous like the mothers… together we knit a tapestry of pure love.
SCHEDULE 
Day #1
Arrival/ interview

River Womb Energetic Cleansing 

Opening intentional pray
Day #2
Daytime San Pedro Ceremony w

ith womb steam cleansing 

(herbs from our medicinal garden)

-Sabine Cihuateotl-
Day #3 
Yoga Kundalini   - Anya Delahaye-

African dance workshop

Workshop: " Sanando y reconectando con nuestra Divina Sexualidad"

-Chetan Pyassa- 
Day # 4
San Pedro daytime hike to the Female Mountain o

f the Valley w

ith Traditional Andean Offering

-Ximena Morales-

Restorative yoga 
Day # 5
DAY # 6
Kambo 

A session with a local midwife for abdominal massage 

for an abdominal massage to place the uterus in its correct place

Ayahuasca ceremony

-Paulina Oviedo-
Day # 7
Yoga 

Cacao ceremony and

"Planting dreams" earth planting tree ritual - Suzannah Ohlune-
Day # 8
Session GONG DE LA TIERRA

-Cinthia Greemberg-

Workshop: "Raising our vibration singing"

-Paulina Oviedo-

Nighttime Yopo ceremony

-Norma Alvarez-
Day # 9 
Rest

Kirtan –Suzannah Ohlune-
Day # 10 
Mudras and meditation Workshop

-Maya Choi-

Art meditative expression 

-Maya Choi-

Nighttime Yopo ceremony

-Norma Alvarez-
Day # 11
Rest

Sweat Lodge -

Paulina Oviedo- 
Day # 12
San Pedro Ceremonies (4)
Ayahuasca Ceremonies (2)
Energetic Womb River Cleansing
Sweat Lodge Ceremony
Tobacco Ceremony
Kampo Session (opt extra fee)
Vedic Astrologic Reading (opt extra fee)
Mountain & Waterfall Treks 
Therapeutic Massage
Yoga
Accommodation
Traditional Organic Meals
Art Workshop
Day 1

Arrival
Energetic River Womb Cleansing
Sacred Pipe Opening Ceremony

Day 2

Hike with Offerings to the Waterfall in the Podocarpus National Park

Day 3

Daytime San Pedro Ceremony
Womb Steam Cleansing with organic herbs harvested in our medicinal garden

Day 4

Hike to the Female Sacred Mountain of the Valley of Longevity: Huaranga mountain.

Day 5

Tao Yoga
Nighttime San Pedro Ceremony celebrating the Pawcar Raymi (the party of the water, the corn and the flowers for the equinox)
Sunrise Sweat Lodge

Day 6
Day 7

Kambo Ceremony (optional)
Workshop with a Local Midwife
Acomodada de utero a cada una
Breath and Song Workshop
Ayahuasca Ceremony

Day 8
Day 9

Earth Planting Ceremony
Active Meditation Workshop
Kirtan
Ayahuasca Ceremony

Day 10

Rest
Sauna/Massage (optional)

Day 11

San Pedro Ceremony
Andean Traditional Offering (despacho)
Sweat Lodge and Rainbow Blossom.

Day 12
OUR TEACHERS
Sabine Cihuateotl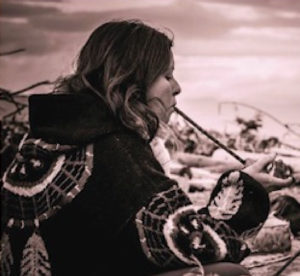 Sabine is a medicine woman and naturologist She was trained in UNISUL, where she specialized in iridology, gem therapy, flowers of Bach and shamanic numerology She has lived a natural lifestyle for 7 years, specializing her journey with the sacred plants. She leads medicine trekking and she holds the Dance of the Water. She lives in Zhuracpamba with her husband Juan Oceloti and is the first medicine woman to work with rescued animals. She takes her journey across Ecuador, Brazil, and Europe.
---
Ximena Morales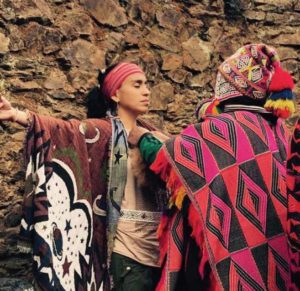 Ximena was born in Peru and started her journey as a sacred healer in the Pachacamac temple in the Southern Lima when she was 7 years old. At age 20, she traveled to Mexico where she connected with her ancestry and became a mother of four, a journey which has been the most challenging and the most sublime. She is initiated in the path of Bhakti of the Vedas and as a Pampamisayoc within the Andean Q'ero Cosmovision. She has lived in the Valle Sagrado in Vilcabamba for 18 years. She has nested with the shaman by the river, surrounded by plants of power. Ximena considered herself an apprentice along her path.
---
Maya Choi - Tai chi, Tao Yoga, Reiki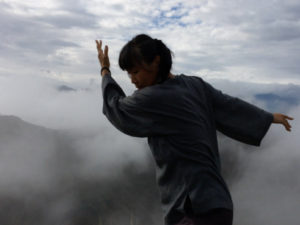 Maya is a steward of the mountain ENCHANTINGWIND in the Ecuadorian Andes. she's a Tai chi, Tao yoga, and Reiki practitioner. She is a freedom seeker, nature lover, and a photographer. Tao yoga consists of movements of flowing nature. It connects us with the elements. It consists of basics yoga postures, qigong, tai chi and mudras, that help us to ground to the earth. It's relaxing and meditative. The focus of this practice is to extend, to deepen the mindfulness and awareness in which one to be able to surf better on the wave of the life.
---
Sumana Lloret - Meditation, Breath & Sound workshops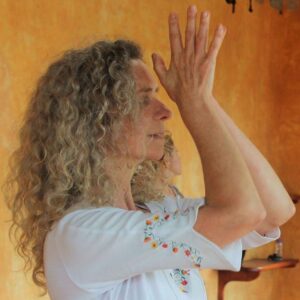 Certified teacher, facilitator, and practitioner of Hatha Yoga, Meditation, ARUN Conscious Touch, and Vital Readjustment "The 7 Chakras through Dance and Sound". Lover of exploration with the Breath, Movement, and Sound". She shares active meditation and the breath and sound workshops for Casa del Sol.