Women Retreat: Sacred Womb Wisdom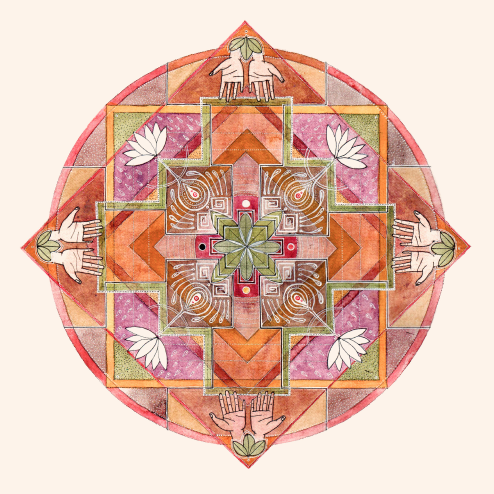 When women get together, real magic happens.
There is no chance, nor coincidences.
We walked towards places and people that had always been waiting for us.
With great pleasure and deep devotion, we convoke this IV meeting of women in the Casa del Sol Sanctuary. It has been a long and wonderful adventure to walk until we reached this meeting, which in some way is always the root that brought and sustains us in this life and it is and it will always be the starting point towards continuity.
And so we are feeling it at this time as an umbilical call to direct our gaze and conscious feeling towards that cosmic matrix that houses us in this existence and resides in our deepest and most mysterious interior.
Like the mycelium of the forests, that luminous essence that unites us and ignites us in authentic complicity, we will embark towards the remote waters of our Sacred Feminine for the pure joy of discovering and purifying ourselves, celebrating and recreating the new versions that in our most intimate dreams we long to incarnate for the bliss of this new humanity and all our relationships.
We are brave women, daughters of a magical dream that has endured countless generations and taken this perfect form. We have the tip of the thread of that weave in our hands – which are the wings of our heart – together we are going to honor this divine possibility that is our most sublime gift, from sincere love and the finest care, sharing this space dedicated to encounter of our genuine happiness, which always involves the well-being of everything that surrounds us in the visible and invisible. Always honoring first and foremost the lives of those who came before us, the primordial forces of nature that nurture our existence and the seed of wisdom that is our spiritual essence so that it may prosper to its highest fulfillment.
We give thanks for life, thanks to all my sisters who are supporting this dream with their magical knowledge and luminous presence. Trusting and thanking the divine Mother who is the one who is manifesting this gift from the abundance of her pure Love.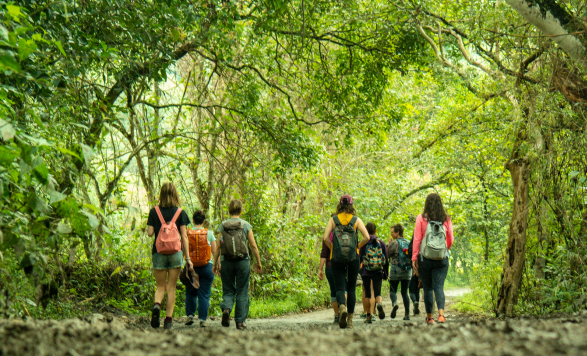 We have designed a journey together focused on the work that we will do with our matrices from different dimensions, for 4 consecutive nights (from 6 pm to midnight) culminating the fourth night of this prayer taking medicine from the Jungle.
We will prepare and get up with the medicine of the grandfather cactus of the Vilcabamba Valley, connecting with nature through walks and offerings, in an open space to celebrate Life with song, dance, art and much joy. Embracing everything that arises in the wise and wild sisterhood of the tribe.
January 22
Arrival
Personal Interview
Sweat Lodge
Welcome and Guidelines
January 23
Kambo I (extra and optional)
Medicine's songs Workshop
Story Night around the fire
January 24
Hike to the Feminine Mountain Guardian of the Sacred Valley with San Pedro Medicine
Traditional Offerings
Sound Healing Relaxing Bath
January 25
Dance time – The Joy of the Goddes
Rapé circle

Workshop of Introduction of the Womb Activation Journey
January 26
Kambo II ( extra and optional)
Workshop Tre technique

Womb Activation Part I: Cleansing of the Womb, Releasing sexual memories
January 27
Yoga
Workshop: Howling with the Pack, connection with the wildest.

Womb Activation Part II : Rescue from the past | Linking with our Ancestors
January 28
Dance our Ancestors, tribal fusion

Womb Activation Part III: Quantum Integration | Rebirth

Ayahuasca nighttime ceremony
January 29
January 30
Daytime San Pedro Ceremony
Sweat Lodge
January 31
Hike to Sacred Cave, Offerings, Sharing Circle and Kirtan
Night of Celebration
February 01
I. Cleansing of the Womb: Releasing Sexual Memories
When we look to the waters of our Earth Mother, we recognize that her waters are not separate from our own. Just as it is important for the waters of the Earth to be in constant motion to remain in a high vibration free of contamination, the same is true for our feminine waters that we carry in our womb. In the first treatment the facilitators will guide us through a process of being in communion with our womb space and building an intimate relationship with her. We will bring to our conscious awareness the energies we are carrying in our sacred portal of intimate partners who have had access to our sacred waters both consensual and non-consensual and with the help of the ancestral medicines we will move and clean our feminine waters to make space and call in all that is in alignment with our highest vibration.
II. Rescue from the Past: Linking with our Ancestors
Our connection and relationship to our guides that live in the medicinal plants is unique to each individual. In this initiation of the womb we will be exploring the mind, heart, and spirit connection. We will build on our relationship with our womb to listen to what she is telling us. Through this process we will connect with the spirit of many medicinal plants and allow our highest vibrational being to guide us into communing with the medicine that our womb is calling out for. With open hearts we will allow our wombs to dance in the vapors of our individual vaginal steam baths with the aid of the medicinal plants.
The womb is a mystic portal that holds the ancient wisdom and knowledge of light codes from our ancestors that came before us and that will come through us. As a collective, we hold the codes of the feminine creation energy and infinite ability to manifest into this realm. Now is a potent time in the world for this work and there is a deep necessity for the feminine to come together in sisterhood to unlock this potential. With the magic of this prayer, we will take a deep look into the stories we carry in our own feminine waters through intimacy, partnerships and our ancestral lineages.
We will cleanse, we will consciously release, and we will rise like the phoenix to move toward our collective awakening. This work ripples through us to heal our families, our lineages past and future, and across dimensions so that we may move as one in the energy of love for humanity.
III. Quantum Integration: Rebirth
We will close our journey of the womb with an integration of the mind, heart, spirit connection. With the loving support of Grandmother Ayahuasca and the vapors of the medicinal plants we will open all of the channels and quantum leap through dimensions to integrate the teachings of our womb into our current manifestation. It is a night to gestate ourselves again in the crystalline uterine waters and to dream back that being that we are from the clarity of love. Before the sun kisses the night sky with the light of day we will enter into the ceremonial womb of the temazcal to then give birth to the highest potential of our sentient being.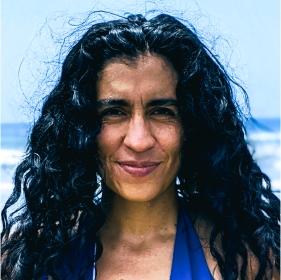 Ximena Morales

(Ecuador)
Woman, mother and grandmother, guardian of the San Pedro & Willka medicine forest "Casa del Sol" in the valley of longevity in Vilcabamba, Ecuador. She learned in the peruvian andes mountains with the Q'ero teachers a very old and sweet way of relating to the living altars of Mother Earth and that is the medicine that she walks in love with sharing and giving continuity to that sublime understanding of reciprocity in gratitude through offerings, rituals, pilgrimages and ceremonies. She is also a Vision seeker, Sun Dancer and Pampamisayoq initiate. She is going to share with us the medicine of San Pedro cactus.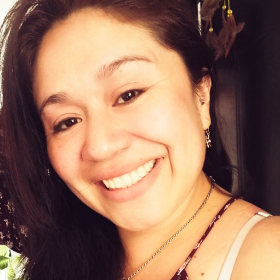 Magda Buitrago

(Colombia)
She is a healer (medicine woman) of Colombian nationality. With experience in ancestral medicine, family constellations, biotherapy, Reiki, Aryurveda massage among other areas of holistic knowledge. She shares the "Prayer of the wombs" is the result of what she has been learned from the ancestral systemic view provided by the Family Constellations and it is sustained in the ancestral connection of the prayer received from the grandmothers of the Muisca, Inga, and Kamentsha nations. My labor service is oriented to share with other women the light that I found in my own darkness and thus contribute to the new dawn of our humanity.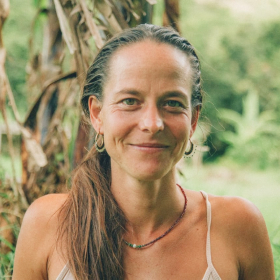 Yana Bartova

(Czech Republic)
From the Shuar tradition she received her name Tatzimoi – "bird that accompanies families in their homes and orchards with its song". From Czech Republic, she shares medicine of Ayahuasca in women's circles in South America and Europe, She is a co-creator of the Women of Water Collective, expanding ancestry through song, medicine and art.She walks this path next to her husband Mira Jempe with whom they have been walking for 10 years taking care of the altar of this master plant at the service of healing and divine consciousness from our Almasana home in the mountains of Vilcabamba, Ecuador and traveling to different parts of the world.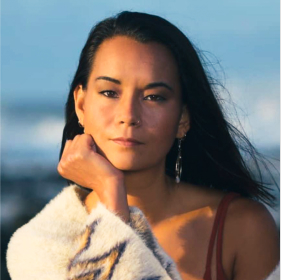 Lauren Oiye

(Hawaii)
She is a Licensed Psychologist in Hawaii, she has over ten years of experience working with individuals and families with extensive experience with issues related to feminine traumas and sexual abuse. She is connected to many paths including those of the North and South Americas as well as the traditions from the Aina (lands) and Wai (waters) in Hawaii. She is currently a Vision Quester, a La'au student (Hawaiian medicine), and hopes to soon participate in the prayer of the Sun Dance.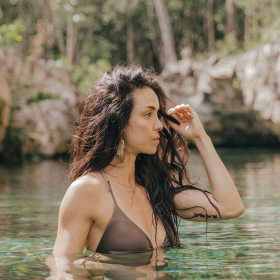 Lucero

(Venezuela)
Lucero is an IAKP Kambo Practitioner certificated ,Vision Quester, fire keeper, sound facilitator & animal lover. She is originally from Venezuela and her mystical experience and introduction to shamanism began in 2010. She loves to share the ancestral knowledge learned and is interested in continuing getting deeper her journey with San Pedro medicine, entheogenic substances and the fungi kingdom. She is a student of life mysteries walking with the intention to be in the Sun Dance one day.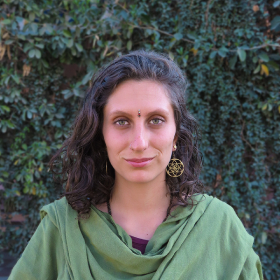 Lalita Vega

(Colombia)
She is a devoted yogini & mother. Her broad studies have taken her to Bali, India & Thailand among other places to learn yoga & meditation in various schools, ashrams and monasteries. Lalitā is also a certified mindfulness teacher and she's currently training to be a holistic postpartum doula. Her passion for devotional chanting led her on a journey to discover her own singing potential and she teaches voice activation workshops.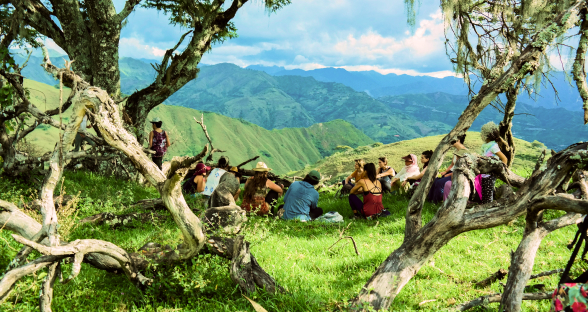 REQUIREMENTS
Duration: from January 22 to February 01, 2023
In the Sacred Valley of Vilcabamba, Ecuador.
Requirements:
* It is important to be certain that you are not pregnant, as this work is not recommended for women who are pregnant.
* It does not matter if the uterus has been removed because energetically its presence continues to exist.
* In case of having had a surgical intervention in the uterus, at least three months must have passed after the operation.
* It is possible to do the experience while breastfeeding, but at least three months after giving birth.
* There are no contraindications for menstruation, it is perfectly possible to participate in all activities during the period.
* Mothers with children are welcome (Babysitter extra cost)
It includes:
* Lodging from January 22 to the morning of February 01 with all meals included.
* All transfers of the activities included in the program.
* Initiation objects, cleaning materials, offerings and ceremonies.
Does not include:
* Airfare.
* Lodging or food the days before and after the program.
* Airport transfers.
* Medicines or extra food.
Contact information:
info@casadelsolvilcabamba.com
WhatsApp: (+593) 99 389 5963
Thank you great spirit for giving us the opportunity to share once again together in this beautiful realm, always walking with gratitude and love.

Thanks Lila Scalise @amormandango for these beautiful watercolors.

Thanks to all the women who make all this possible!